How to add keywords, tags and categories on WordPress.
How to add images in WordPress on a page or a post.
Join me for my free series for beginners online at the Castro Valley Library.
Here are the next two sessions.
Linda Lee and Castro Valley Library
Present: FREE Internet Web Series for Beginners
Next two session listed now.
To sign up simply email your confirmation to:
Last night I taught my first class in a series of 4 , for the Castro Valley Library.
It was how to get started blogging.
We had everyone sign up for a free WordPress blog, and then I taught them how to post and add an image. We had a great turn out and the library has their own laptops that people got to use, so that was fun. It was great to be able to stand in the back of the room and make sure everyone was on the same page, and not leave anyone behind. The level of experience ranged for super beginner to some who knew a little bit about working online. We have all ages too. Of course the 6th grader, Dylan was able to do everything quite fast, given how tech savvy these kids are today, they just get it.
I love teaching and it very satisfying to see people learning how to do something like blog which is fun and can be profitable and help your business too if you have one.
If you are local mark your calendars for our second website/blogging class on June 22, 6-7:45 pm – MARKETING YOUR BLOG OR WEBSITE
I will teach how you can get more visitors to your site and the basics of Search Engine Optimization.
I will have videos to help with what we learned available online after the class.
1. Login to your Dashboard.
2. When you are done logging in your will looking at this, which is called your dashboard this is where you control your entire site in WordPress.

3. Select the post or page tab depending on what you want.  A page is a permanent page usually on the menu bar, a post is the blogging part of your blog. Be sure to select the correct one.

4. When you click pages, it will drop down, and then you will select "edit".
5. You will now be in the editing section, this looks like this.
6. You will now begin to edit the page,you can preview it using the preview button. When you are done, hit the publish button, if you are updating an existing page or post it will say "update" instead.
This is the same procedure for posting,make sure you are on the correct section when working, (page or post).

If you would like a 2 hour one on one
WordPress training session with Linda Lee,
click here to schedule and pay.
We work on your computer via remote with you.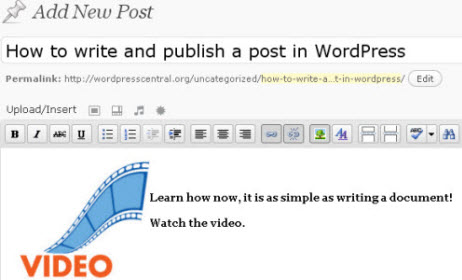 Watch Video on how to write and publish a post in WordPress.

Click the right side bottom corner of the video control bar to make the video full viewing size.